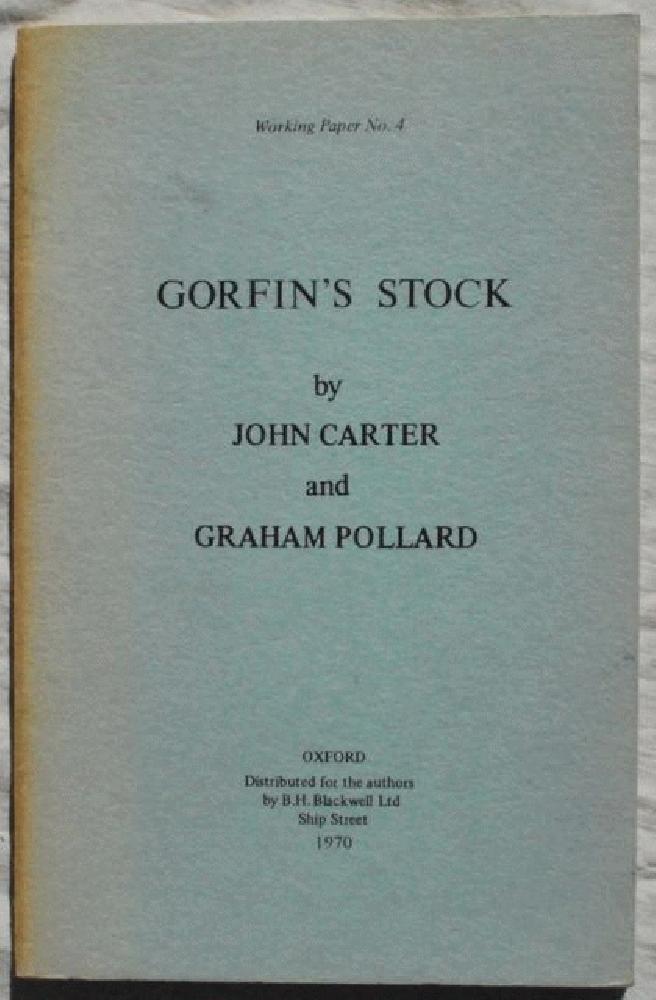 Author Name John Waynflete Carter (1905-1975) and Graham Pollard (1903-1976).
Title Gorfin's Stock.
Binding Paperback
Book Condition Collectible: Very Good
Type Paperback
Publisher distributed for the authors by B. H. Blackwell, Ltd 1970
ISBN Number 0950171301 / 9780950171302
Seller ID CH814-399
Series: Working Paper, No. 4. LIMITED EDITION of 400 copies. Pamphlet. 8 1/2 x 5 1/2 inches. [ii], 36 pp. Tables, lists of forgeries and books in catalogs; text clean, unmarked. Blue printed wrappers, stapled; binding square and tight, light toning at the extremities, else Fine. This is the fourth of a series of Working Papers for a second edition of An Enquiry into the Nature of Certain Nineteenth Century Pamphlets. The working papers were deemed too lengthy to be included in the second edition of their classic work, and contains more detailed information upon which their conclusions were drawn.
John Waynflete Carter, Graham Pollard, Gorfin's Stock, Working Paper No. 2, History of Printing, Limited Edition
Price = 35.00 USD