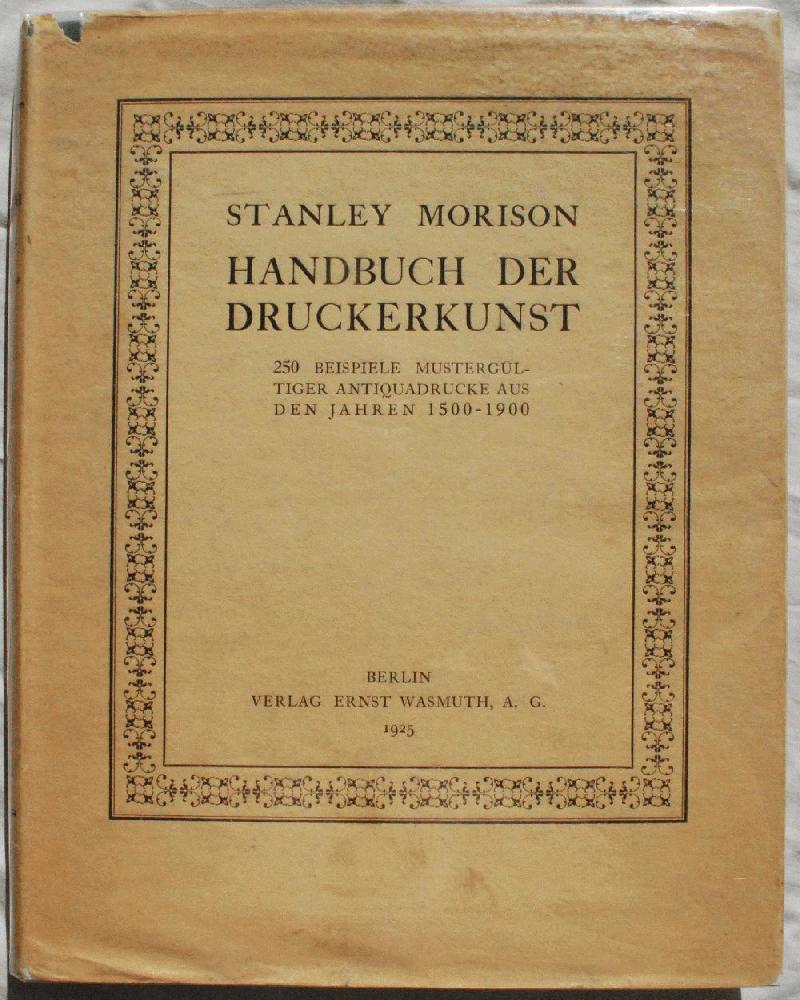 Author Name Stanley Morison (1889-1967).
Title Handbuch der Druckerkunst: 250 Beispiele Mustergultiger Antiquadrucke aus den Jahren 1500-1900.
Binding Hardcover
Book Condition Collectible: Very Good
Jacket Condition Very Good
Type Hardcover
Edition First German-Language Edition
Publisher Berlin: Ernst Wasmuth, 1925
Seller ID CH814-205
FIRST GERMAN-LANGUAGE EDITION of Morison's The Art of the Printer: 250 title- and text-pages selected from books composed in the Roman Letter printed from 1500 to 1900. 4to. 11 1/4 x 8 3/4 inches. [xii] pp. followed by 245 black-and-white plates; text clean, unmarked. Green cloth, spine titled in gilt, dust jacket in archival mylar; binding square and tight, corners bumped, jacket soiled and chipped at edges, jacket cover with shelf wear. Very Good. This book was bound as the English edition, with identical pagination, and the dust wrapper follows the style of the English edition. This copy has a photo-copy of the English-language preface laid in. REFERENCE: Appleton, The Writings of Stanley Morison, No. 47.
Stanley Morison, Handbuch der Druckerkunst 250 Beispiele Mustergultiger Antiquadrucke aus den Jahren 1500-1900, Printing History, Typography
Price = 40.00 USD